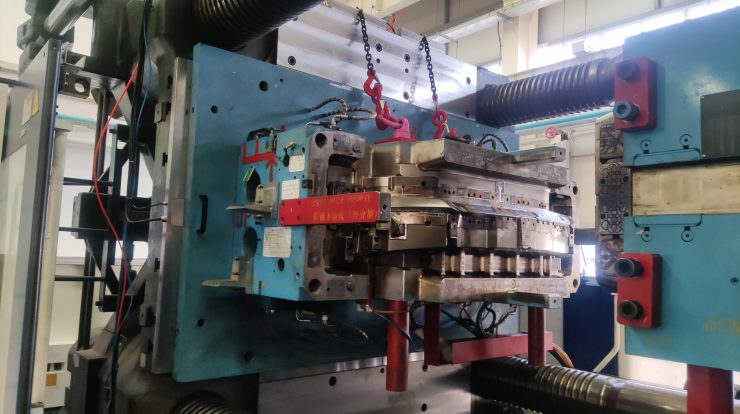 There are different types of quick mold change systems for plastic injection molding machines, among which hydraulic clamps and magnetic platens are the most commonly used. Do they perform the same good on large tonnage machines? We'll see from the quick mold change of the following 3300 ton Haitian injection molding machine.

This fully automated magnetic mold clamping system used was supplied by HVR MAG, which makes it possible for molders to change mold for small tonnage machine, within 3 minutes. For extra large tonnage machine, the mold changing time could also be shortened within half an hour, excluding the time spent on the installation of our quick mold change system.

A quick mold change means that the material for the next injection molding process is in place, the former mold been dismounted, and the new mold been loaded automatically as quick as possible, to reduce the machine downtime and to improve the efficiency of injection molding business.
Whether you want to reduce cycle and mold changeover times, with quick change mold clamps installed, the mould can be located and clamped in position automatically and shortly.
How does the magnetic platen work for quick mold change?
When the magnetic platen system is activated, a short burst of electric current temporarily changes the polarity of the magnets inside the platen, so that the magnetic field enters into the mold for clamping or is disengaged from it for un-clamping. Just magnetize to clamp the mould, demagnetize to unclamp the mold. It's that simple.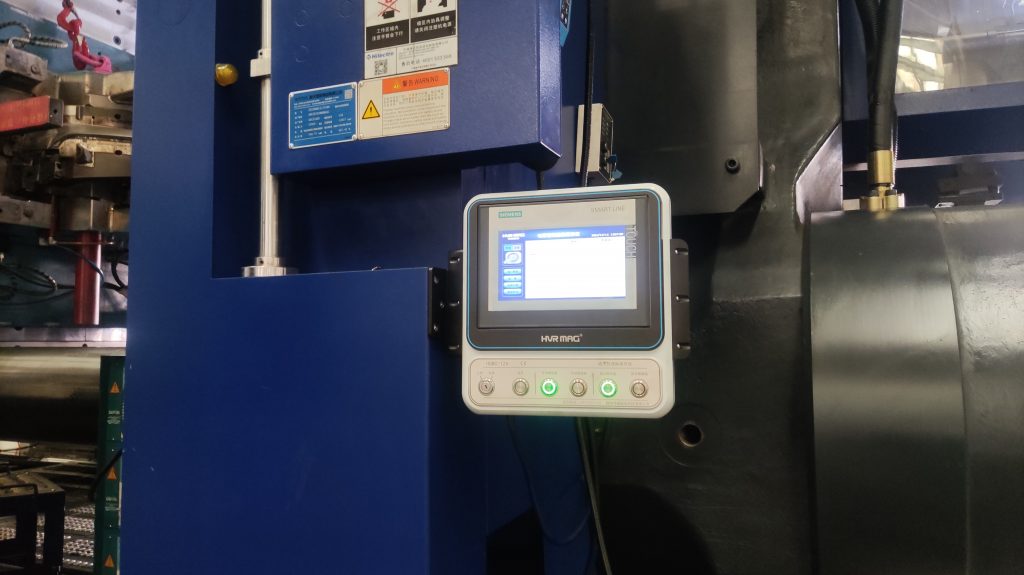 Due to the electro permanent magnetic clamping technology, our magnetic quick mold change system does not consume power when in clamping state, which makes it more competitive and more energy-efficient.
Why not stick to hydraulic clamps?
Some would say, why not just stick to the hydraulic clamps, which are cheaper than the magnetic system. Well, it's true that the hydraulic system costs less than the magnetic clamping system, but not in an cost-efficient way.
As we can see from the pictures above, the edge of the mold baseplate has reached the margin of the baseplate of machine. If the molder goes with the hydraulic mold clamps, there won't be enough space for their installation. Besides, there's always a risk of oil leakage with hydraulic clamping system.
In another words, magnetic clamping takes less space on the machine than the hydraulic mold clamps do, and is cleaner and more energy-saving than the latter.
Magnetic mold clamping system supplier
HVR MAG can tailor design and manufacture magnetic platens to allow for quick mold change on almost any injection molding machine, ranging from 50-4000T. Quicker mold change times means shorter machine downtime, will will lead to higher efficiency of injection molding business. Welcome to visit our website www.magneticplaten.com to learn more about our mold clamping system.