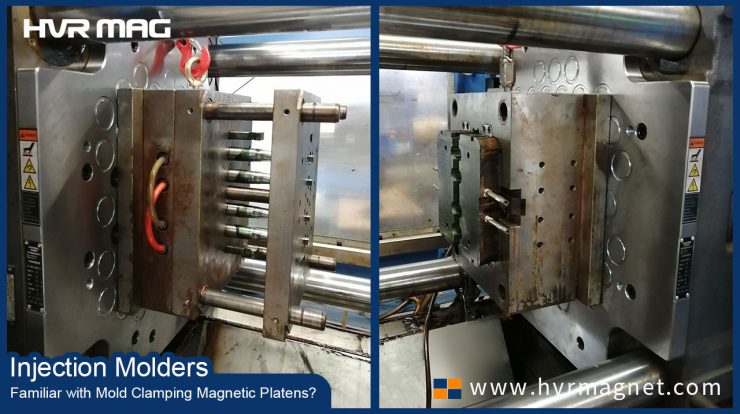 What Is Magnetic Mold Change?
When the number of product changes and because of that mold set-ups increases, the utilization time of the machine decreases. Mold changeovers can be extremely time-consuming. To increase efficiency and of course productivity, magnetic mold change has enjoyed great popularity in plastic manufacturing industries, using magnetic clamping force as an alternative to conventional bolt-on mechanical clamping.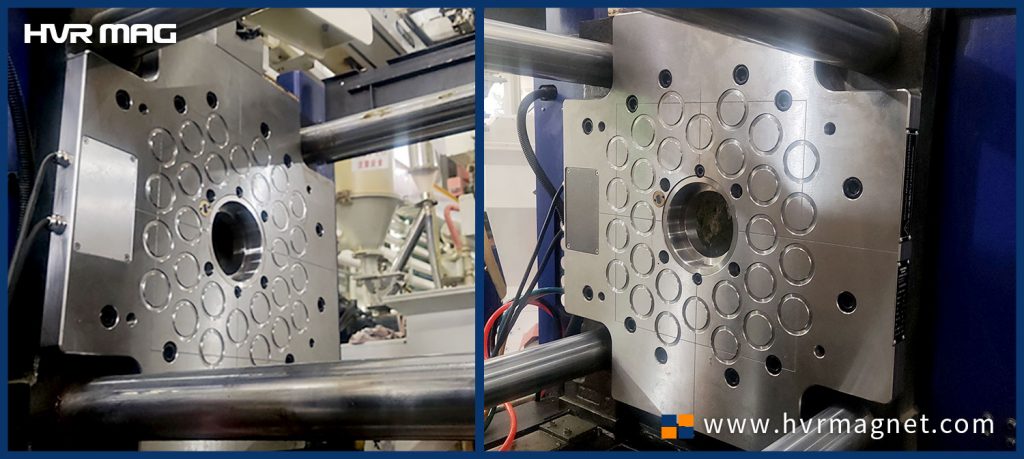 Procedures of Quick Magnetic Mold Change
For machines that entail frequent mold changeover, we recommend magnetic platens for quick mold change.
1)Install the 2 magnetic clamping plates on each side of the base plate of injection molding machine
2)Insert(load) the mould into the machine.
3)Place the mold on fixed side of the machine, taking as reference the centering ring.
4)Close the machine.
5)Magnetization procedure for both fixed and moving side magnetic clamping plates.
6)Remove the hook: the IMM is ready to work.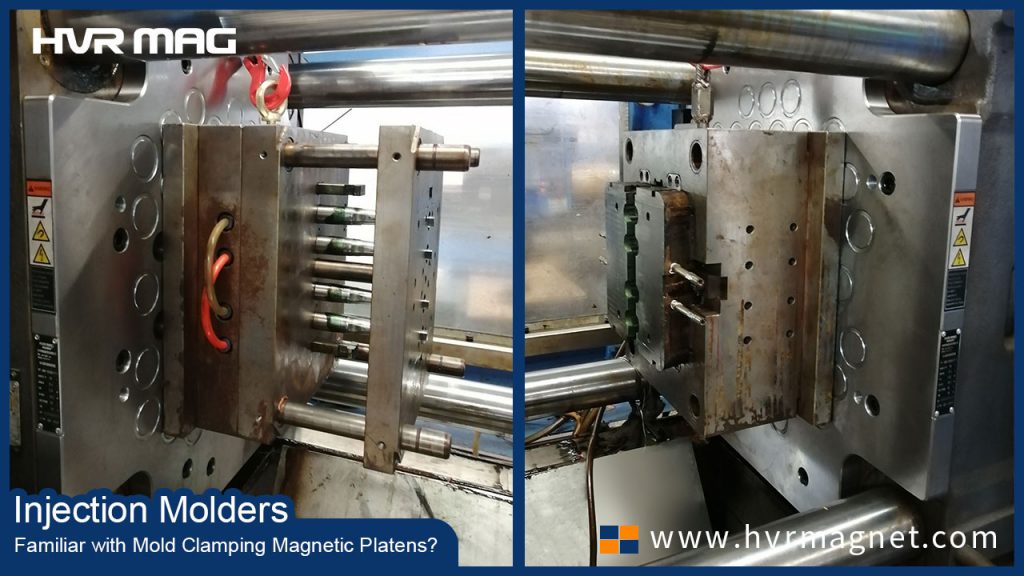 A magnetically clamped mold is subject to neither deformations nor to inner tensions. The force is distributed uniformly throughout the contact area, instead of only being applied on the external edges of the base-plate, as it happens when traditional clamping methods are used.
Features of this innovative magnetic clamping system for quick mold change:
• Monolithic construction
• Solid steel surface, oil & water proof
• Reduced thickness (35mm super thin)
• Strengthened magnetic force
• Extended lift time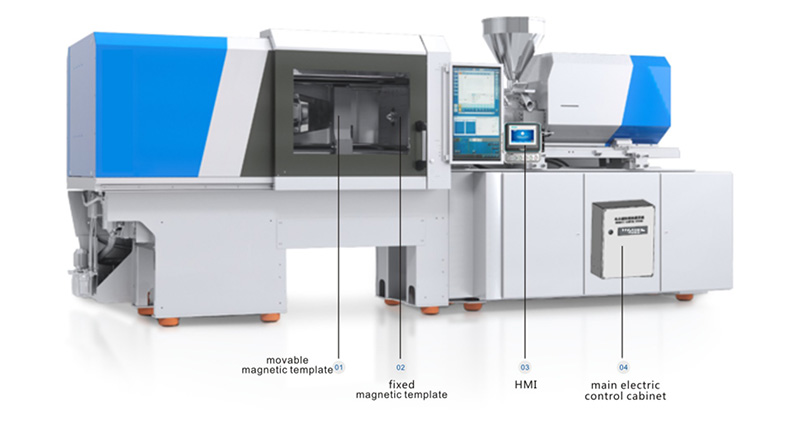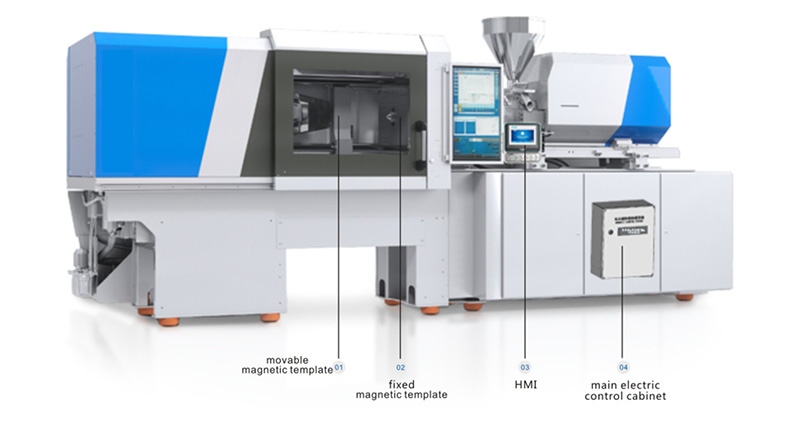 With this magnetic mold change system configured, manufacturers are gaining unparalleled advantages including:
• standardized molds are not required
• height of clamping edge and mold shape is not necessary
• shorter machine downtime, lower setup cost
• increased productivity
• clamping in barely accessible positions without any problems
• no reduced clamping surfaces
• process monitoring and thus absolute safety
• clamping force on the complete surface of the mold
• clamping with no deformation of the base plate
• reduced maintenance costs
The time to change molds for small tonnage IMMs can be greatly reduced to within 3 minutes and does not require retooling. The technology of magnetic clamping plates is based on the principle of an electro-permanent magnet which means that it remains safely clamped even in the event of a power failure. Electrical power is only needed for 2 to 3 seconds to clamp/magnetize or to unclamp/demagnetize the mould. Once in operation, the magnetic platens no longer need any power.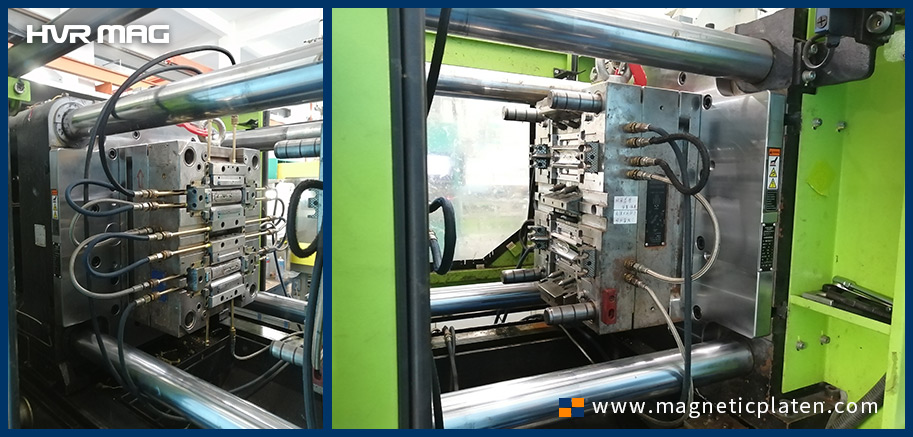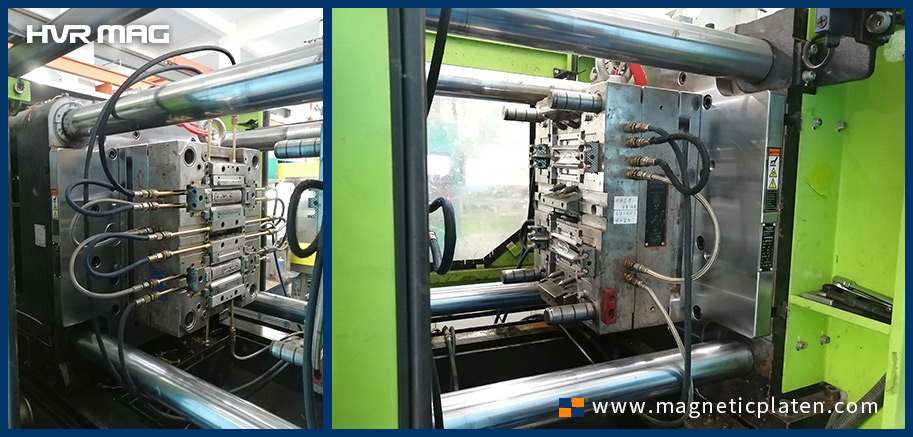 As a magnetic mold change system supplier, HVR MAG can tailor design quick mold change solution for IMMs from 50-4000 ton, both horizontal and vertical machines. Moreover, this magnetic clamping system is also suitable for quick die change for stamping/punching press. They can provide total safety, great flexibility and practical use, with enhanced competitive advantage over the traditional systems in various sectors, such as automotive, electronics, packaging, medical, house appliances, metal working and many others.