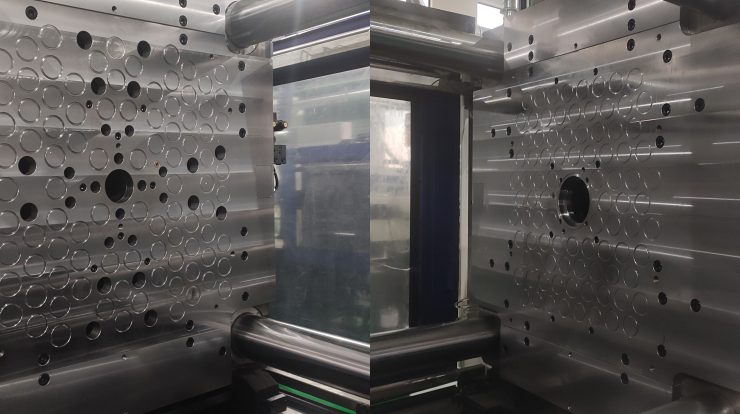 Today we will talk about our magnetic quick mold change system for India customer's electronics plastic injection molding. Our customer, a distributor of injection molding machines, wanted to buy several sets of magnetic mold clamping systems for his customer. And they found HVR MAG on the Internet.
Before purchasing the magnetic mold clamps for electronics plastic injection molding:
Our customer also compared the hydraulic mold clamps with the magnetic mold clamps. After learning their differences below, they finally decided to buy magnetic mold change systems.
1.Hydraulic mold clamps have to change oil regularly while magnetic mold clamps don't. And there's no worry of oil leakage.
2.Hydraulic mold clamps needs higher maintenance cost, while magnetic mold clamps don't. In fact, the latter needs near-zero maintenance.
3.Hydraulic mold change method need more modifications of the molds than magnetic mold clamps do.
In conclusion, the magnetic mold clamping system is cleaner, stabler, and free of tedious post maintenance. The characteristics just cater to our customer's needs for electronics parts injection molding.
Of course, through the Internet, our customer learnt a lot about our company. Later they also knew that our products have passed ISO9001:2015, and obtained the CE certificate plus 6 invention patents. That we have lots of experiences of offering competitive services to customers worldwide. As a small company focusing on electro-permanent magnetic solutions, our capabilities of maximizing customer's benefits is excellent.
The magnetic mold clamping systems we manufactured for our customers range from 50 tons to 4000 tons, from horizontal injection molding machines to vertical injection molding machines, from one-color injection molding to two-color injection molding. Besides, our products cover many famous brands of imms, including Haitian, Engel, Izumi, Sumitomo, Demag, Nissei, Fanuc, etc. You can say that we can custom magnetic mold clamps for most of the imms in the international market.
What's more, our magnetic mold clamping system has been used to manufacture not only electronics parts, but also auto parts, telecommute parts, medical parts, toys, daily necessities, etc.
The end of the story? HVR MAG didn't let our India customer down with our magnetic quick mold change for electronics plastic injection molding. And we will do all we can to satisfy every customer. If you have any needs for our HQMC system, please e-mail us at: export@hvrmagnet.com