Although we have most of our application cases of magnetic quick mold change for horizontal injection molding machines, we also have sufficient experience in manufacturing magnetic mold clamping systems for vertical injection molding machines.
HVR MAG HQMC magnetic mold clamping system for vertical injection molding machine, has the following characteristics:
1.Whole steel surfaces make them easy to clean and maintain during usage.
2.No movable parts inside the magnetic platen housing make a stronger and longer service life.
3.It is energy-saving since it adopts the electro-permanent magnet technology. And it only needs a pulse of electric current to "MAG" or "DEMAG" the clamping force. It does not consume electric power during working process. It saves up to 90% electricity compared with electromagnetic mold clamps.
4.Safe and reliable, because the magnetic platens need no electricity in the working process, you don't have to worry about the mold falling during working process.
5.Applicable for the machine PLC system, so it allows for easy operations.
6.Compared to hydraulic mold clamping system, the mold change efficiency improves by 90%.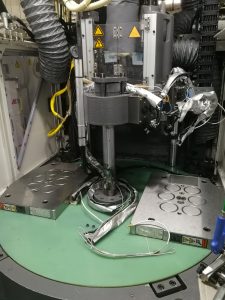 So far, HVR MAG has custom made magnetic platens to best suit for different customers' vertical IMMs. And we provide two different kinds of human face control panels for your best choices. Some vertical IMMs have 3 rotary mold tables with high working efficiency, which means more magnetic platens for one machine. We also have experience in doing that.
With smaller ground occupation, the vertical injection molding machines are very attractive to those who want to manufacture smaller plastic parts. Such as electronic parts, medical parts, toys, and some small plastic daily utensils. We believe that with high technological capabilities, vertical IMMs' future will see lots of magnetic mold clamping systems.
If you are looking for a quick mold change for your vertical injection molding machine, please contact HVR MAG for a detailed conversation. Our e-mail address: export@hvrmagnet.com