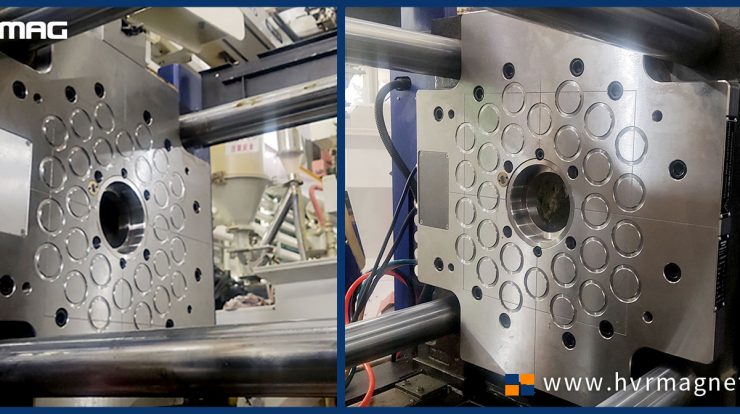 When we say 3-min quick mold change with magnetic mold clamping system, that's not daydreaming. But surely there are some steps that we need to follow strictly. Now I'm sure you're eager to know about it.
Steps to follow for 3-minute quick mold change:
Parallel operation. This means 2 people is better than 1. You will get extra value by shortening the mold change time, which is far more valuable than the labor cost. Although magnetic mold change method needs less people to work at the same time, it's better for 2 to cooperate in When engaged in parallel operation, the two persons must be skillful enough, paying special attention to safety.
No feet movements. It requires you to reduce feet movements to a minimum extent. Therefore, the tools, molds, cleaning cloth, etc. that must be used during mold switching must be placed on a special trolley or cart and sorted out for quick fetching when needed.
The moving line for mold and other objects to move in and out of the machine must be easy, and the sequence of moving things should be rational and standard.
Special props (tools). Use specially made props for special purposes. The measuring instruments should also be props-ed, and block gauges or grid bars should be used to replace the reading value measurement of the measuring ruler or instrument.  The most important thing is to try to reduce the types of tools, so as to reduce the time for searching, taking and placing.
No or less bolts work. Since magnetic mold clamping system needs less mold modification than hydraulic mold clamping method, the bolts of the magnetic platens were screwed in during the first installation. And during mold changing process, no more bolts are needed in mold switching. The mold was clamped by the strong magnetic force. Standardization. Because different products have to change different molds or working conditions, it is also necessary to make adjustments and set new operating standards.
The adjustment action usually takes about 50% – 70% of the entire mold switching time, and the length of the adjustment time varies greatly. If you are lucky, it will be adjusted at once. If you are unlucky, it will take tens of minutes.
Good preparation. The preparation job should be standardized. Set up a special cart or trolley for mold change, and place all the required molds, props, mold change program table and related equipment on the trolley to reduce the time for individual search and handling. The placement of molds should also be clear, and the storage place should be marked with meaningful numbering.
Magnetic mold clamping system with automated injection molding supporting system is the fastest and cutting-edge way of mold change. For example, you can use robotic mold carts with guide rails to move the molds in and out.
All in all, 3-min quick mold change can be real if we follow certain standards and steps. Any questions about HVR Magnetic mold clamps, please e-mail us at: export@hvrmagnet.com