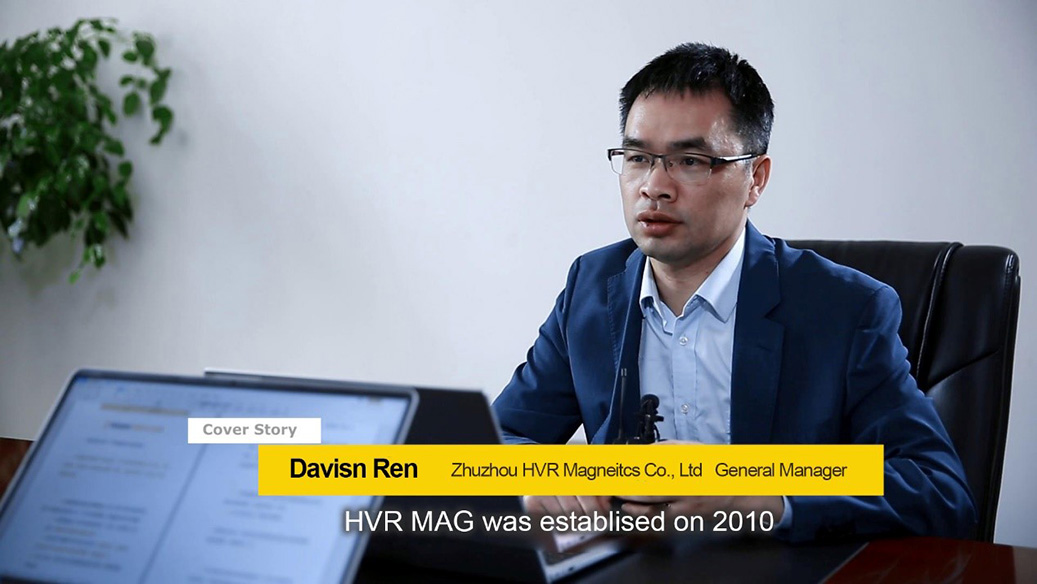 An interview with Zhuzhou HVR Magnetics co.,Ltd
Interviewer: Hello Mr. Davisn, I'd like you to make a brief introduction to the current situation of HVR.
Davisn: HVR was established in 2010 and it has been established 10 years now. Our main products are magnetic quick mold change system, electro-permanent lifting magnet and electro-permanent magnets for automation. 30% of our product are exported. In China, we have established good cooperation with Sany and BYD etc. We have a technology research and development central in Europe, and also have agent in Japan.
Interviewer: We did some research in the quick mold change market, there are also many other brands except HVRMAG, So I'd like to know what is the main advantages of HVR's products compare with these domestic brands?
Davisn: First of all, we give our first priority to product quality. For our magnetic quick mold change product, which have eight protective measures. Including magnetic flux detection, distance detection, and temperature detection and so on. We must protect the product strictly to ISO9001:2015. Secondly, in order to give our customers more confidence to use our products, there is a global product liability insurance provided by Ping An of China for our products since 2011. In 2019, all the products of are pass CE certification by TUV.
Interviewer: I'd like to ask Mr. Ren. What the advantages of HVR to compare with these foreign brands?
Davisn: HVR is a new brand in the world. I think what we better than foreign brands is to make our localization service better and more solid, our entire training for customers, including after-sale services and after-sales maintenance, may be more detailed.
Interviewer: Magnetic quick mold change system is suitable for all types of injection molding machines. Did you have any special type of machine model that you can't use it.
Davisn: In theory, it can be used for all injection molding machines, so we didn't meet this problem now. But for the small and medium-sized machines, the space of mold is very limited. After adding our magnetic plate, the container space will be smaller. At this time, some customers will consider whether it can be used. For machine under 200ton, Our magnetic plate can reach a thickness of only 35mm, so this problem has basically been solved.
Interviewer: Are there any unforgettable customers or cases that HVR has served?
Davisn: A Japanese company. they first have a skeptical attitude towards Chinese products, whether it can be used, and whether the product quality can be meet demand. So we just use our actual action to do it for the customer. we are confident about our product so we send our products to our customer for a period of time without paid.
Interviewer : No need pay?
Davisn: Yes, No need pay. It is precisely because of this action. this Japanese company believes that if a Chinese company dare to do this, it should be no problem, so they bought us a set of trial, which is to try it for half a year, and there is no problems. Since then, this customer has become a very loyal customer in our company. Not only their own company will normally purchase our products every year, but also introduced us to many Japanese customers.
Interviewer: In the development of this epidemic, Did HVR have been affected? Or did you encountered a problem that you have never encountered before?
Davisn: Of course, this epidemic has some impact on us, but first of all, the more gratifying is that our contract sales in the first quarter, compared with previous years and the previous two years, was increased.
Interviewer: Increased?
Davisn: Yes, but since April, the foreign orders, such as European and American orders have recently dropped a lot.
Interviewer: As for the decrease in foreign orders, does HVR have any measures or any countermeasures to solve such problems?
Davisn: We set up a special action group to do quality improvement, from design to manufacture, including our after-sales service standards, we are making further specifications in this time. We hope that although orders will decline during the epidemic, but after the epidemic, we will be more fully prepared for the increase of customer demand, to let our customers more assured of our products. At the same time, our internal work efficiency and product quality have been improved, which is also helpful to the future development of our corporate brand.
Interviewer: Our questions are all over. Davisn, do you have any idea to talk to the industry or peers or the market through our video platform?
Davisn: I hope that I can really take HVR well, become a small and beautiful company and take root in the industry of electro permanent magnets, become an invisible champion in the end. We have full confidence in the future of global economy, especially the economy in China, we will continue to work in this industry.