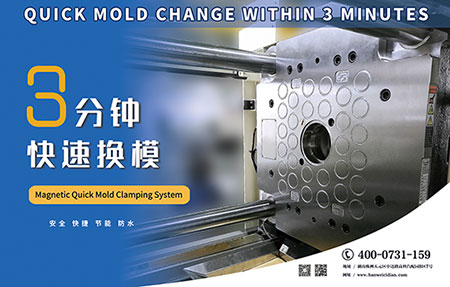 The 35th China International Plastics Exhibition is about to start
Exhibition address: Shenzhen, Baoan New District,
The International Convention and Exhibition Centre
Date: 4.17-4.20
Exhibition hours: 9:30am - 5:00pm
HVR MAG will be at the show with our Magnetic Mold Clamping System. Our products belong to the Injection Moulding & Smart Manufacturing Zone (Hall 11 & 12). The Magnetic Mold Clamping System is the safest and most convenient quick mould change system available and is more comfortable and energy efficient than the hydraulic type. The two magnetic plates give the mould a more uniform clamping force. With its own temperature, distance and misalignment sensors, the Magnetic Mould Clamping System allows you to keep track of the mould status and ensures that both the mould and the injection moulding machine can operate safely.
The Magnetic Mold Clamping System can be used on both horizontal and vertical injection moulding machines. The magnetic plates are made of electro-permanent magnet. It requires only a few seconds of energisation to change the direction of the magnetic field of the permanent magnet material inside. Once the magnetic field has been applied to the mould to create an attraction, there is no need to energise it and the magnetic force remains constant.
The Magnetic Mold Clamping System can help you achieve fast mould change. A 3 minute fast mould change can become a reality after standardising the mould change process. After installing the magnetic clamping system, the mould change procedure is as follows: 1. Align the mould with the positioning holes 2. Close the injection moulding machine so that the two magnetic plates are close to the mould 3. Magnetise the plates and test the mould opening process after magnetisation is complete.
This simple and quick mould change process can greatly reduce the downtime of your injection moulding machine and increase production efficiency. If you are interested in our Magnetic Mold Clamping System, please come and talk to us at the exhibition.
HVR MAG booth number: 12J71 (Hall 12)
Please note: If you are coming to the exhibition, please complete the online pre-registration before 5pm on 4.11.
Address for pre-registration:Click here
HVR MAG website: https://www.magneticplaten.com/
Contact us: export@hvrmagnet.com