Today we will introduce a case of QMC (Quick Mold Change) solution for 800T Injection Molding. This client from Brazil specializes in providing cooling system solutions.
1.What did
HVR MAG
offer?
What they use is our magnetic clamping platens specially designed by engineers from HVR MAG. The product also belongs to the HQMC system.
HQMC Characteristics: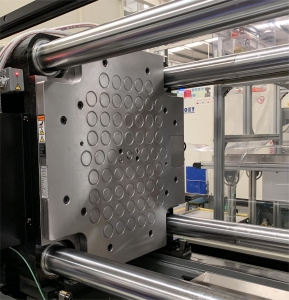 The magnetic platens are all steel made: more durable and long-life.
Super thin platens: in this case 46mm. As thin as 35mm can be realized.
Uniform clamping force around the mould back: increased safety.
Human-machine surfaced control panel: easy and smart operation.
Labor and time saving, reducing down time and injuries.
Various molds can adapt to the same set of magnetic clamping system: highly adaptable and compatible
Double lock system and alarm device: safe and convenient for repair.
2.How is
HQMC
environmental-friendly?
Firstly, the HQMC system for quick die change only requires current while switching on and off (only Magnetization and Demagnetization need power). No electricity is required during the die stamping operation. The QMC system is energy-saving to achieve JIT.
Secondly, this client manufactures cooler systems, which are critical parts in automotive systems. And their products can actually reduce nitrous oxide emissions, provide lightweight and high-performance cooling. That's why their products also meet the needs of energy efficiency, especially with today's increasingly stringent emission regulations.
We are very proud to play a small part in our client's energy-friendly production. One small step makes significant progress!
Since each pressing machine type is different and different customer's requirement varies, we'd always love to customize each set of quick mold change system for each of our client.
You can click here to get a free query if interested:
https://www.magneticplaten.com/contact.html