This customer is from Guangdong Province in South China. Their main products include molds, auto parts, electronics, and telecom parts. And this newly installed magnetic quick mold change system is for their 2400T Haitian injection molding machine, manufacturing car parts for new energy cars.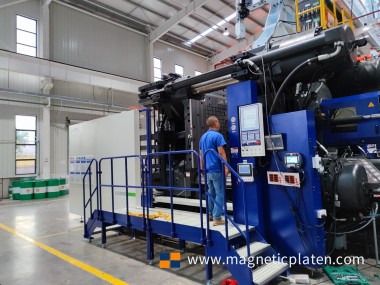 a. Significant cut of the mold change cycle and machine downtime; meanwhile more time was saved for production.
b. Easy and low-cost maintenance due to its stable steel structure and long use of magnets. The new mold change system needs only daily cleaning and visual check. No need for oil changes as hydraulic mold clamps do.
c. Energy-saving since the magnetic mold clamps adopt electro-permanent magnets which only need electric current to turn on and off. While during the working process, it doesn't need any electricity at all.
d. The magnetic mold clamping system is adaptable to various mold sizes with minimum changes done to the molds.
e. Factory layout environment improved. Delicately made magnetic platens look clean and beautiful.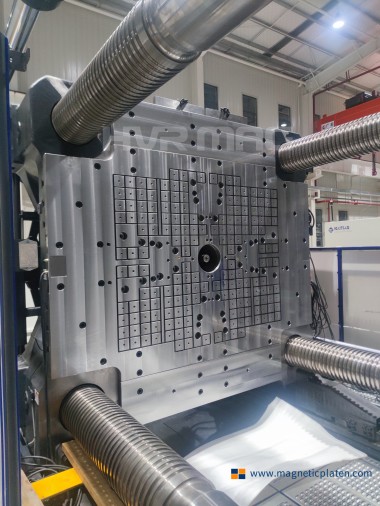 As the cutting-edge mold change method in the world, the magnetic quick mold change system is surely the trend in the plastics industry. HVR MAG has had rich experience in custom designing and manufacturing magnetic quick mold change for Haitian, Engel, Yizumi, and Nissei injection molding machines, etc. If you have any needs, please feel free to e-mail us at: export@hvrmagnet.com