This Quick Mold Change application case belongs to a domestic automotive enterprise from Henan Province. It provides strong support for their bus's leading position in the industry with complete vehicle mould equipment and parts. HVR MAG helps to shorten the mold change time by providing our Quick Mold Change System for its various auto parts injection molding machines, among which the quick mold change solution for its 3300 ton injection molding machine is the largest tonnage.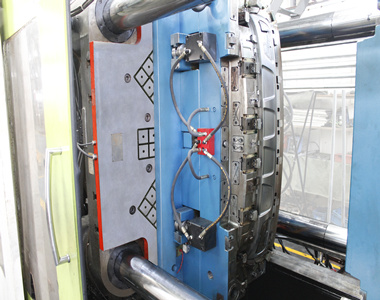 Actually Yutong had adopted hydraulic mold clamps before, but the bolting and unbolting process was still more time-consuming. And the hydraulic clamping force wasn't so uniform around the mold back, which leads to mold deformation sometimes. And if the bolts loosened, workers didn't get any alerts during the plastic injection molding process.
With the continuous prosperity of the domestic automobile industry and the rapid development of new energy vehicles, the production renewal is fast and the order delivery is getting tighter. In order to quickly adapt to this change and catch up with the automatic production train, Yutong realized that it was necessary to improve the mold change speed of injection molding machines so as to improve the production efficiency.
Among the many quick mold change system manufacturers in China, Yutong finally chose HVR MAG's magnetic mold clamping system: HQMC system. Not only from the cost performance consideration, but also from the company's strength perspective to make the best choice.
As a ventured company under Yutong Group, Yutong Mould Co., Ltd. undertakes all kinds of auto body stamping molds, auto chassis stamping molds, roll pressing equipment, large and medium-sized injection molds, all kinds of resin rapid molding molds, body engineering prototypes, injection molding products, punch welding products R & D manufacturing. We sincerely wish that Yutong will play an increasingly important role in lifting the future of China's auto manufacturing industry. We are also very happy to be able to accelerate their auto parts injection molding production with our own magnetic quick mold change solution.
HVR MAG has proudly taken the leading position among the few manufacturers of magnetic mold clamping system in China. After over 10 years of technical efforts, we have made a lot of achievements in the field of magnetic quick mold change, and have maintained good interaction with our domestic and foreign customers.
Click
to query now, or send us an e-mail at: export@hvrmagnet.com