In recent years, the theme of environmental protection has been very much in the air. The word "green" and "circular economy" have become industry buzzwords currently. Today we're going to share HVR magnetic mold clamping solution for IMM (injection molding machine) makes plastic injection molding more sustainable. And this application also shows how magnetic QMC helps manufacturers go green.
The customer, from the East China region, involves in auto parts manufacturing mainly. At the beginning of 2022, they ordered 2 sets of our magnetic mold clamping systems for their 350-ton and 700-ton Engel injection molding machines respectively. The customer intended to introduce not only magnetic quick mold change systems but also the automated take-out robot arm as well. Thus factory automation would be accelerated a lot.
With the efficient collaboration of the robotic arm and the magnetic mold change system, the efficiency of auto parts injection molding in the customer's factory has been greatly improved in the following ways:
1.The mold change cycle has been reduced to just a few minutes, reducing machine downtime and saving more time for production;
2. The take-out of the auto parts has achieved non-manned, saving human labor cost;
3. Since no so much human work, safety is much more guaranteed;
4. More cost-effective since the magnetic mold clamping system offers a quicker mold change time and minimum maintenance after sales, compared with a hydraulic quick mold change solution.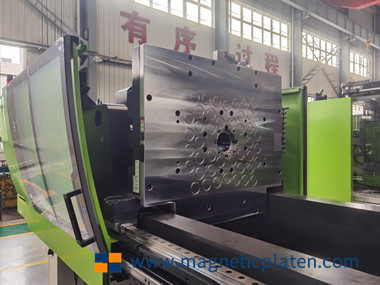 (Magnetic QMC for 350-ton Injection Molding Machine)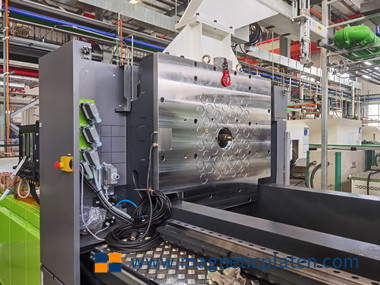 (Magnetic QMC for 700-ton Injection Molding Machine)
In the background of Industry 4.0 and smart factories, a series of initiatives taken by manufacturing companies to improve their productivity, because they want to stand out, is very beneficial to the creation of a circular and green economy.
In addition to the use of magnetic mold change and automatic auto parts pick-up robots, there are other ways to help manufacturers go green:
A.Reduce and recycle your scrap
B.Source recycled materials locally
C.Use all-electric molding machines
What's worth mentioning is that magnetic QMC can generally be applied to nearly any size IMM (from 50 ton~4000 ton). All HVR MAG wants to make sure is the magnetic QMC quickly pays for itself during your production. We also understand that to make our product help plastic injection molding manufacturers go greener and more sustainable, we should never stop technological research and innovation. And more importantly work collaboratively with our customers to meet the changeable market needs.